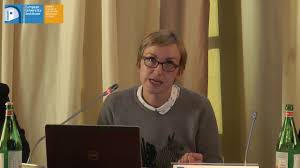 Marta Božina Beroš is an Associate Professor at the Faculty of Economics, Juraj Dobrila University of Pula (Croatia), where she teaches on EMU law and governance. Božina Beroš graduated cum laude from the Faculty of Law, University of Zagreb (2003). She holds a M.Sc. in Economics from the University of Zagreb (2007) and a Ph.D. in Economics from the University of Ljubljana (2012).
She was and Intellectual Exchange Fellow of the Japan Foundation, an UNIDROIT invited scholar, as well as the academic coordinator of two Jean Monnet Module projects awarded by the European Commission. Recently, she has been awarded a grant for the promotion of science diplomacy by the Horizon 2020 "S4D4C" project.
Her research interest focuses on integration dynamics within the EMU, and on agency governance in the context of differentiated integration. Her publications have appeared in the Journal of Common Market Studies, the Maastricht Journal of Comparative and European Law as well as the Palgrave Series in Banking and Finance.
From 2019 she participates in the Horizon2020 "Integrating Diversity in the EU" project, working on an "experimentalist-informed" analysis of the EBA and the SSM.
She is an S4D4C Open Doors Programme Participant.
Marta Božina Beroš presented a poster on
OPEN DOORS PROGRAMME: BRINGING SCIENTISTS INTO SCIENCE DIPLOMACY
at session III – EU Science and Innovation Diplomacy Roadmaps based on case examples (Insight into S4D4C's research and preliminary results)