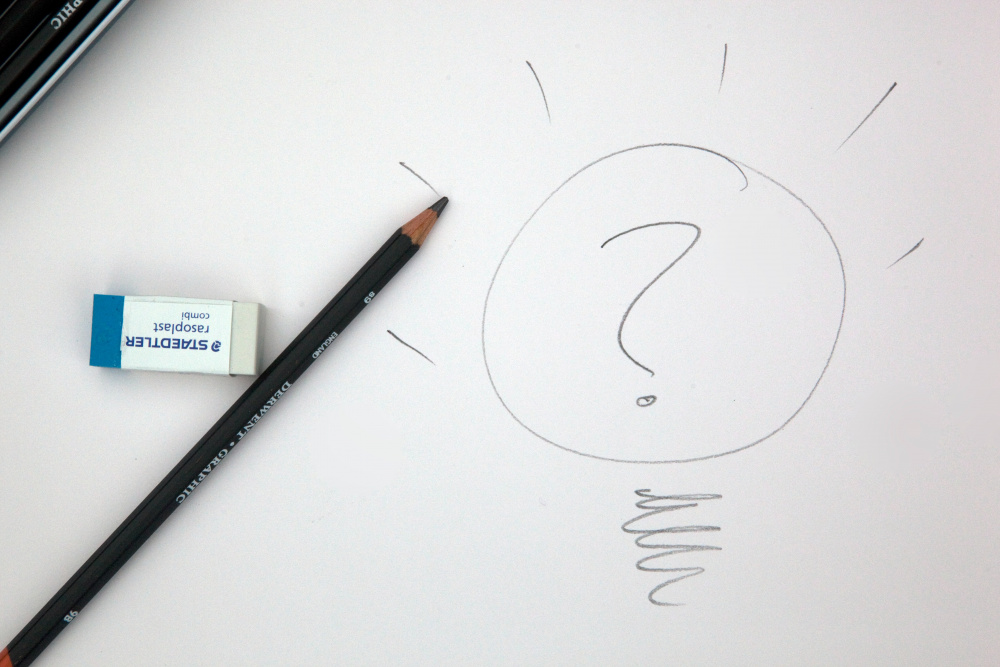 Introduction
In a globalizing world, contemporary grand societal challenges, such as the UN Sustainable Development Goals, have been observed to be increasingly difficult to address by traditional means (Haas 2016; Kuhlmann and Rip 2018; U. Beck 2009). Among others, foreign policy and governing in general have seen shifts from centralized, top-down modes to more networked forms with new actors both multi- and sub-national pushing onto the scene (Hocking 2016; Rhodes 2007). Such developments increase the complexity and, in turn, the difficulty of policymaking on all levels. Additionally, national and international policy initiatives linked to, for example, reducing poverty, crime, health threats, greenhouse gas emission or biodiversity deterioration are losing out against national political, sometimes protectionist struggles, short-sighted businesses and self-centred interests. Indeed, the effective transformation of unsustainable socio-technological systems calls for targeted intergovernmental action and dedicated diplomatic efforts for the mobilization of appropriate scientific knowledge.
Conceptual starting point
S4D4C's societal-challenge-oriented governance framework for science diplomacy in Europe and its international politico-scientific context is inspired by the scientific literature on 'meta-governance' put forward inter alia by Bob Jessop building on previous work by Andrew Dunsire, and by looking at the lessons learned from the de facto governance practices studied in the context of the empirical programme of the S4D4C project. Click below to know more!
Research Process
We developed the governance framework based on the conceptual considerations and empirical sources. As the Figure on the Governance framework development process shows, the empirical results gathered within S4D4C were accompanied by insights from innovation policy and governance studies as well as experience with another governance framework – for Responsible Research and Innovation – based on meta-governance thinking. As such, by considering these various sources, it can be said that the science diplomacy governance framework is a result of interweaving 'top-down', i.e. relating to a priori knowledge, and 'bottom-up', i.e. relating to empirical knowledge, movements.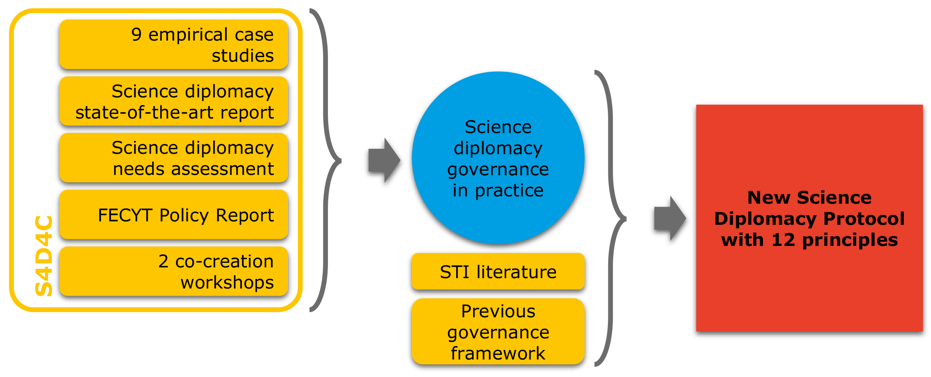 Figure: Governance framework development process (Source: author's illustration)
Governance Practices for Science Diplomacy
The conceptualization of the governance domain on which the Science Diplomacy Governance Framework builds on both a) the fact that constructive and productive science diplomacy involves the collaboration of tensions taking place at the level of three interrelated arenas located in the international politico-scientific context, and b) on the notion of 'tensions' themselves, where tensions are imbalances or critical situations or dilemmas that result from the interaction between stakeholders at different stages of the science diplomacy process, at different arenas and levels of the decision making process, locally or abroad, implicit in the science diplomacy process. Tensions block smooth transboundary knowledge flows, and their presence is what makes a governance framework necessary. They occur not only in the same arena, at the same level of decision making within one country, but even more at the overlaps between arenas, locally up to internationally, which then need to be governed by collaboration in the science diplomacy processes. This is not to say that all tensions conceivable can be overcome with science diplomacy. Some tensions and the barriers deriving from them, especially when it comes to different value systems, interests and worldviews, are either practically insurmountable or it can be normatively undesirable to resolve them. Nevertheless, it is important to mention that these tensions represent the context in which science diplomacy activities need to be embedded and this means that such activities need to relate to these contexts in one way or another. For example, science diplomacy activities need to take into account diverse socio-economic circumstances of involved actors that may lead to frictions.
The Science Diplomacy protocol
Science Diplomacy is an area on the interface between foreign policy, problem articulation (e.g. concerning SDGs) and science that is characterised by fluidity and multi-interpretability. Its definition, stakeholders and job descriptions are not fixed. As long as it is applied in collaborative situations and based on cosmopolitical interests, this Science Diplomacy Protocol capitalizes on these circumstances and proposes principles of interaction that are applicable to various configurations of stakeholders and topics pertaining to the challenges societies face today.
This Science Diplomacy Protocol outlines a set of twelve procedural and infrastructural principles that need to be considered to create transformative science diplomacy interactions. Not all are applicable to every situation, but it will be useful to consider combinations of principles in most. Depending on the specific situation, it can be possible that several of the principles need to be balanced with each other and that sometimes trade-offs between them are inevitable. This highlights the necessity of making the conditions which the principles address explicit among the stakeholders involved.
The full reference list used to develop the New Protocol for Science Diplomacy can be accessed here.