Elke Dall, coordinator of the S4D4C Project, made a contribution to the Career Symposium of the French Chapter of the  Marie Curie Alumni Association (MCAA) which took place at the Institut Curie in Paris on May 20, 2019.
The conference targeted young researchers and aimed at raising their awareness for different career opportunities. Elke Dall gave a presentation during the afternoon session entitled "Moving from science to the world of European policy". In this context, she highlighted for example relevant skills and upcoming training activities of the S4D4C Project: the two science diplomacy workshops in Trieste and Vienna taking place in autumn of this year.
Not only was this event a good opportunity to communicate S4D4Cs project outcomes, resources and insights to young researchers and other actors present at the conference, it also provided an occasion for very productive interactions and side-meetings with the coordinators of our sister Project InsSciDE. Leonard Laborie (deputy coordinator, CNRS) presented an inspirational example of a person working at the intersection of science and policy: Marie Sklodowska Curie. Antonella Di Trapani completed the set of speakers in this session which was chaired by Ewan Geffroy (Policy working group of the French chapter of the Marie Curie Alumni Association). The opportunities and skills needed for careers on the science policy interface were also discussed with the young researchers who consider a transition from a career in the lab to a more policy oriented one during a lively "speed dating" session.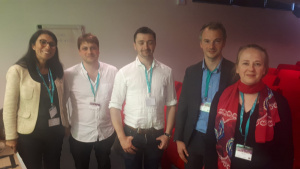 In the picture: Antonella Di Trapani, Head of NEST secretariat at Organisation for Economic Cooperation and Development – Nuclear Energy Agency (OECD, NEA); Thomas Bonnard, Chair of the MCAA French chapter; Ewan Geffroy, MCAA Policy working group; Leonard Laborie, InsSciDE / CNRS; Elke Dall, S4D4C / ZSI
More information on the event as well as the full programme can be found HERE.
Download S4D4C's presentation for the event HERE.