Two of our S4D4C team members, Lorenzo Melchor and Marga Gual Soler, participated on Monday in a webinar with the title "Science and Diplomacy: How can one foster the other?" which was organised and orchestrated by INet NYC , a New York based organisation providing international STEM (Science, Technology, Engineering, Mathematics) scientists with support and professional development opportunities.
The webinar focused on the potential embedded in the term science diplomacy for scientists who want to connect with the fields of diplomacy and foreign affairs. For this, six speakers shared their understanding of science diplomacy and described how their careers evolved over the years turning from scientists to science diplomats.
Allessandro Allegra, a researcher in the field of science and innovation policy, and currently pursuing a PhD in Science, Technology and Society (STS) at the University College London, moderated the talk. He opened the discussion by highlighting that science diplomacy is a term that encompasses many different things depending on the context in which it is used and by whom. This was reflected in the answers of the speakers as well.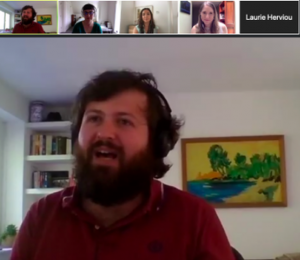 For example, Alicia Pérez-Porro, a marine biologist working on the nexus between scientific research, gender equality and science diplomacy, sees science diplomacy as an umbrella term under which academics, students, civil society, diplomacy officials etc. can connect using science as the common language.
Alternatively, Jean-Christophe Mauduit, professional astronomer by training and lecturer in science diplomacy at the University College London, focused on the science informing international relations aspect of science diplomacy.
Lorenzo, who holds a PhD in molecular and cellular biology and now works as a science advice and diplomacy officer in the Spanish Foundation for Science and Technology (FECYT), expressed that for him, science diplomacy is
"an interactive space between science and international relations; bringing together scientists, scholars, diplomats, policy makers and a lot of other practitioners. It is not only the prerequisite of the nation state, but a multi-stakeholder field".
The different aspects of science diplomacy highlighted by the speakers correspond to the uniqueness of their respective career paths. All of them were trained as scientists and somewhere along the way found themselves desiring more interactions with the policy field which is why they started to look for alternatives. All speakers shared with the audience some key moments in their careers.
Melania Guerra, oceanographer and science diplomacy strategist, reported a defining moment in her career when she realised the truly international aspect of science. It was during a scientific expedition in the Bering strait where she collaborated very closely with Russian scientists. Alicia experienced similar moments which helped her to re-orient her career and to develop her understanding of science diplomacy: One of them was the her expedition in Antarctica with another 100 STEM women from 35 countries.
In the process of reorienting themselves towards science diplomacy careers, many searched for mentors in the field. Marga Gual Soler, preeminent science diplomat, was mentioned by some speakers as an inspiring mentor as she was one of the first visible persons out there doing science diplomacy. Indeed, after her PhD in biology she took an internship at the UN, where she was the only intern from a scientific background. It was clear for her that the field of international relations needed more scientists and she decided to lead the path for others like her. This however, was not especially easy, as a training in science does not provide you with the necessary skills to navigate the diplomatic interface.
She, like many other speakers, had to re-asses their skills and go back to university to form themselves in international relations or public policy. To mention only a few, Jean-Christophe went back to study international relations and Lorenzo is currently doing a master in policy analysis. Indeed, the path towards science diplomacy requires to re-assess yourself and to see which knowledge you still need to acquire. With the concept of science diplomacy becoming more and more popular, there are now a lot of other opportunities for receiving training in the field. For instance, at the end of May we will be launching our S4D4C European Science Diplomacy online course. Marga has also been involved in many trainings, workshops and seminars such as the workshop in Trieste.
Jessica Tome Garcia, analyst at Sustainable Development Solutions Network, also mentioned the importance of networking and participating in events. Getting to know people that are part of the science diplomacy interface can really open opportunities and getting out of your comfort zone is really important.
Beyond networking skills, experts elaborated on what they consider key skills for a career in science diplomacy. Melania expressed how important communication skills are. The ability to communicate scientific knowledge in a simplified/summarised way is essential to get science to enter the diplomatic arena. For Marga, this goes hand in hand with learning the rules of those institutions: How to address officials, how to understand the decorum and how to get across your knowledge to really make an impact. Jessica stressed that an open mind is an absolute necessity.
"Never underestimate anyone, have an open mind, try to understand what the role of a person is in a project and what they are passionate about: this is how to create an amazing network."
Even though some skills were identified the list is not exclusive. Jean-Christophe recalled that the field is currently being defined, possible careers are so diverse that it is impossible to pin point a clear set of skills .
All in all, the discussion illustrated the uniqueness of science diplomacy careers and provided some advice to scientists interested in bringing their science into international relation arenas. Lorenzo called onto scientists that do not want to leave academia to keep doing research but with the idea that their research can make an impact if they try to connect with the non-academic world. For those who want to follow his example and leave academia in the search for a new career, this is possible if you to train yourself and network with people that work in the field.
Make use of what is made available to you and actively try to connect!
The speakers incentivised anyone interested in a career in science diplomacy to connect with them on social media.
The recording of the event is available here: https://www.youtube.com/watch?v=ux25ANzPm1c