SciTech DiploHub, the Barcelona Science and Technology Diplomacy Hub, is a pioneering non-profit public-private partnership backed by leading research centers, universities, start-ups, and public institutions that positions Barcelona as a global lab in science diplomacy for cities around the world. S4D4C is cooperating with the SciTech DiploHub frequently, as for example during last year's Barcelona Science and Technology Diplomacy Summer School when S4D4C researchers were engaged as trainers.
Recently, the SciTech DiploHub kicked-off a series of online conversations as a response to the current COVID-19 crisis. Titled "#SciDipTalks", this series comprises five online conversations between various experts and on specific perspectives to the global pandemic the world is currently facing. Last week, on March 26, the first of these talks took place revolving around the topic of international cooperation in times of global pandemics. The session aimed to explore the role of international cooperation in global health crisis management, while specifically addressing the importance of science diplomacy in pandemics by looking into the cases of Ebola, H1N1 influenza, MERS and the current SARS-CoV-2.
?️ Everything ready for our first #SciDipTalks "#ScienceDiplomacy & pandemics: a call for int'l cooperation"!

With Julia MacKenzie (@aaas @scidip) Antoni Plasència (@ISGLOBALorg) @IlonaKickbusch (@GHC_IHEID) @DrLMelchor (@FECYT_Ciencia @S4D4C) & our CEO @alexisroig pic.twitter.com/1bbsaKMOLj

— SciTech DiploHub (@SciTechDiploHub) March 26, 2020
S4D4C's team member and EU Science advice and diplomacy officer in the Spanish Foundation for Science and Technology (FECYT), Lorenzo Melchor, was one of the four experts invited to share his expertise. The others included Julia MacKenzie, Senior Director for International Affairs at the American Association for the Advancement of Science (AAAS), with whom we recently conducted an interview for our stakeholder's voices, Antoni Plàsencia, Director General of the Barcelona Institute for Global Health (ISGlobal), and Ilona Kickbusch, Chair of the Global Health Centre at the Graduate Institute of International and Development Studies in Geneva. Alexis Roig, CEO of SciTech DiploHub, moderated the online conversation.
What was discussed?
Alexis Roig set the scene by introducing some of the current developments in fighting the coronavirus SARS-CoV-2 that can be observed on a national and global level. He asked about the specific role that sciences can play in overcoming this crisis and about science diplomacy as a possible tool to reduce its impact. He pointed out that every country seems to be "fighting its own battle based on their own realities that are believed in".
Julia MacKenzie told about what science diplomacy actually is – in her words, "diplomacy relevant to science and vice versa". Pandemics are, by definition, a transnational phenomenon and no single country can combat them alone. There are some systems in place enabling to respond to a pandemic outbreak, such as the World Health Organisation (WHO). But SARS-CoV-2 very evidently shows that much more is needed in terms of international cooperation, the speed of actions implemented and transparency.
Antoni Plàsencia reminded that there are about 1.7 million unknown viruses infecting animals today.  A spill-over of any of these viruses to humans is possible any time, and so is the occurrence of a pandemic. Already in 2017 the United Nations established the so called "Global preparedness monitoring board" as a new observation mechanism for global pandemics. The preparation of the board included a chapter on "preparing for the worse", forecasting the need to get prepared for something like the current coronavirus. According to Plàsencia, this chapter was an explicit warning to the global community about the lack of readiness to fight a pandemic such as COVID-19 in the future.
On the one hand Plàsencia also stated that we are better equipped than ever before with different global initiatives, but apparently still not enough as many big countries have got into severe problems. Despite of this progress, pandemics are still being dealt with in a disaster response more than a preparedness response mode.
?️ «We still need to strengthen outbreak management capacity. Leadership, better coordination and a clear governing framework are needed to ensure that efforts sum up to a functional, adequate global system» Antoni Plasència @ISGLOBALorg#SciDipTalks #COVID2019 pic.twitter.com/jKqNWKa317

— SciTech DiploHub (@SciTechDiploHub) March 26, 2020
Lorenzo Melchor was asked whether the SARS-CoV-2 once more testifies that multilateral cooperation and science diplomacy are more needed than ever. In order to answer that question, it is important to understand S4D4C's two-fold approach including a research- and a policy-oriented dimension.
As a matter of fact, Lorenzo referred to the The Madrid Declaration on Science Diplomacy, published by S4D4C in early 2019 and endorsed by over 125 global key opinion leaders in the field already. As part of this declaration it is stated that
"Science diplomacy is often not fully exploited at all levels of governance and especially at supranational levels"
So even before the outbreak of this pandemic disease, there were clear signals that the full potential of science diplomacy and multilateral cooperation was yet to be fully harnessed. Lorenzo mentioned that S4D4C has created a special task force for the analysis of this current COVID-19 situation with the aim of producing a policy brief shortly (find more info the article here).
The task force started operating on the observation that we are living through historical moments with the current COVID-19 crisis. The world is facing challenges but also opportunities. There are three opportunities and three challenges alike.
Opportunities
The scientific opportunity: Science and research are in the global spotlight. Scientists, physicians, global health professionals, and other myriad of experts have taken the stage of public sphere. The general public is waiting for scientists to find the cure for this disease. Social sciences and humanities are essential to understand how the general public may react to certain government responses. Science is globally understood as the technical solution to tackle this global challenge.
The science diplomacy opportunity: The interaction spaces for science, policy and diplomacy are increasing. Across different countries, governments are taking advice from scientists and health experts to understand the disease and its evolution, and discuss about the best possible ways to contain its spread. Scientists are collaborating internationally to tackle this disease with open publication and preprint repositories, and sharing data and all kinds of expertise. Scientists, medical doctors, and medical supplies are now being shared or provided between countries. China is now using their acquired expertise in tackling this disease to improve his image as a global power, and in the coming months, we shall see how this is also used by other countries to spread their influence worldwide.
The diplomacy opportunity: This is a tangible global threat that may provide a window of opportunity for more multilateralism and collective action. Countries now have a common and tangible global enemy. Of course climate change is also a common threat, but it has not reached this tangible situation that we face with the current pandemic. This emergency situation could strengthen the role of international bodies like the World Health Organisation, reinforce the EU integration project if the right decisions are made, and foster better multi- and bilateral relationships between countries.
Challenges
A conceptual challenge: It was also found in the S4D4C case study analysing the zika response in three European countries and within the EU, that health diplomacy has more traction in the diplomatic community than science diplomacy does. Science is transversal to any topic you may imagine: the state-of-the-art scientific and research knowledge related to any issue is of importance for policy-making and diplomacy, but checking this knowledge and fully implementing it in the decision-making process may not be that consolidated in our minds. We build up silos and walls in our personal and professional lives to better operate, acquire better specialised skills, and so on, but science diplomacy is meant to bring these walls down and foster better coordination and cooperation between different governance silos.
The challenge on the governance level: International bodies (WHO), supranational bodies (EU), nation states, regions and cities are all taking actions to tackle this disease, which is causing a lot of frictions on the governance level and which is even more the case as domestic politics take the stage in the current situation too.
The current difficult and challenging scenario to provide science advice: With this context full of uncertainties, science advice highly depends on the type of questions experts are asked and the amount of evidence that is present, where the whole scientific evidence is not as solid as we expected, scientists are still learning the ins and outs of this virus biology and how it can be stopped. We have to remember that science advice is just one piece, though very important, in the decision-making process. We will get to learn a lot from this current science, policy and diplomacy interface but it is crucial to draw a line where scientific evidence ends and policy decisions are taken.
«Global health experts and biomedical scientists are in the global spotlight, advising and proving insight to both policymakers and the general public. This is an opportunity to better translate research into policy-making»@DrLMelchor @FECYT_Ciencia @S4D4C #SciDipTalks pic.twitter.com/wpPjn8xwM9

— SciTech DiploHub (@SciTechDiploHub) March 26, 2020
In conclusion, as Lorenzo said, this COVID-19 situation will give us plenty of opportunities to advance on the presence of science and the value of science in policy and diplomacy, but it is not without big challenges that will need careful consideration.
Ilona Kickbusch attested the global community an increasing level of cooperation since the Ebola outbreak. She posed two questions to consider: "How much of the research done on national levels is actually a global public good?" and "In the global competition for the first reliable and clinically tested vaccine – will it be a vaccine available for everybody in the end?"
The final round of questions focused on future prospects. Of particular interest was the question whether the COVID-19 pandemic could lead to a stronger voice of science and technology in international relations and diplomatic action.
Julia MacKenzie said that the value of science will definitely be lifted. Antoni Plàsencia emphasised that the variety of responses albeit the same scientific information at hand is a clear sign that there is not enough evidence yet on how this transfer of science into policy-making is happening across different countries worldwide. Lorenzo added that if previous outbreaks led to the creation of the European Centre for Disease Control, we shall see what may come out after COVID-19. Maybe the EU gets more sovereignty in health policy issues, to ensure proper coordination in the Member States' responses in the future. In any case, Europe needs to share its models that lead to specific science advice and make us stronger in answering a challenge together. Science diplomacy, as in the words of Lorenzo, is trying to invent and redefine itself in the context of a crisis. Ilona Kickbusch expects future decision making more and more under uncertainties.
➡️? A recording of the #SciDipTalk 1 "Science Diplomacy and Pandemics: A Call for Greater International Cooperation" can be found on the Youtube channel of the SciTech DiploHub
---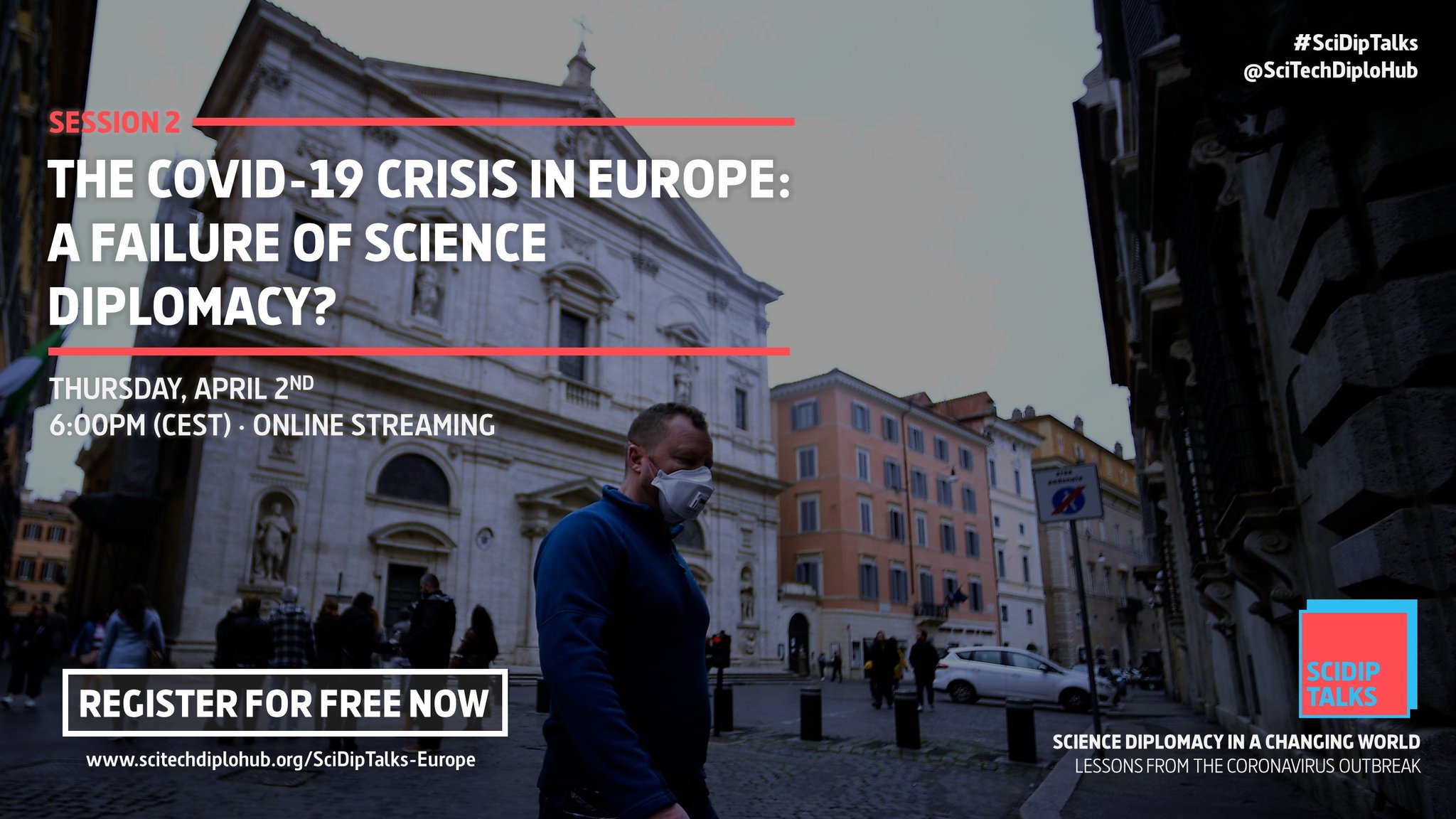 The next #SciDipTalk takes place this Thursday, April 2, featuring the topic: "The Covid-19 crisis in Europe: A failure of science diplomacy?". Our team member Ivo Šlosarčík is expected to take part in the upcoming talk. Find all information HERE.