The course is structured in eight different modules. Each module includes different lessons and, each lesson contains one or more topics.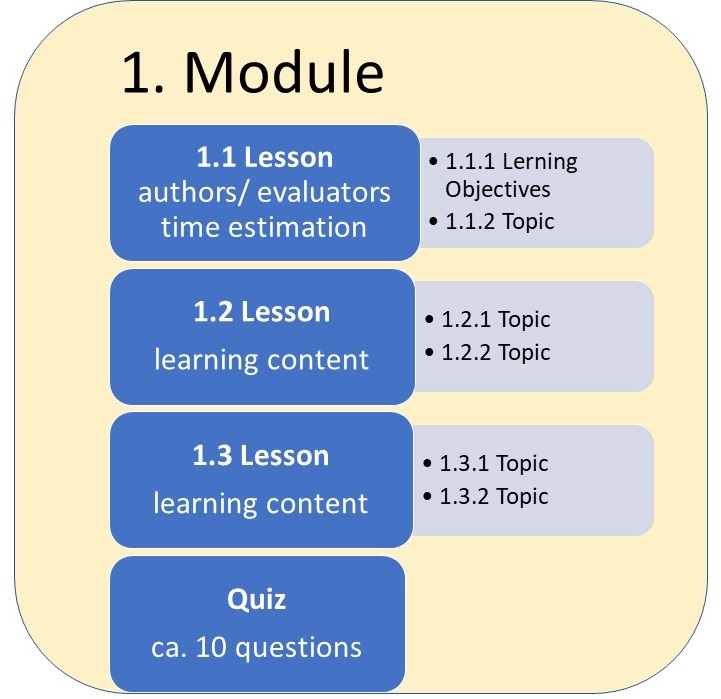 All modules start with a short description of the authors and practical information about the estimated time that the module will take you, an introductory lesson with the learning objectives and expert's preliminary insights. Then, you will have access to the lessons and topics with specific content and recommended readings related to the module. At the end of each module (except for module 1 and 8) you will find a quiz that will help you assess how much you have learnt. You can take the quiz as many times as you need and you need to pass all the quizzes if you want to get your certificate.
Summary of modules:
Module 1: How To Get Started? (which is meant for anyone taking the course)
Module 2: What Is Science Diplomacy? (which is suitable for scientists and diplomats at the beginning of their career in science diplomacy)
Module 3: Who Are the Science Diplomacy Stakeholders? (which is of interest for everyone but scientists may find particularly interesting topics 3.2.1 and 3.2.2, whereas diplomats may learn especially from reading topic 3.2.3)
Module 4: How Does the European Union Practice Science Diplomacy? (which is of particular interest for current and future science diplomats with an interest in the European Union)
Module 5: What Are the National, Regional and Thematic Approaches of Science Diplomacy? (which is suitable for current and future science diplomats)
Module 6: What Set of Skills Do I Need to Be a Good Science Diplomat? (which is especially suitable for future science diplomats)
Module 7: Hands On! Case Studies (which is suitable for current and future science diplomats who want to analyse the science diplomacy dimension in empirical case studies)
Module 8: How Can You Dive Deeper into the Topic? (which offers you a list with extra recommended readings and videos dedicated to Science Diplomacy in case you want to deepen your knowledge in the field.)
At the end of the online course, we will invite you to our "Satisfaction Survey": Your opinion and feedback are one of the most essential components for the sustainability and development of our online course. Therefore, we will kindly ask you to fill in a questionnaire by illustrating your consumer satisfaction with the content and the technical facilities.