Stakeholders may gather around specific regions or regional interests. The scope of their actions or their nature may differ. Here we present three types of regional networks.
In our taxonomy, regional STI diaspora networks differ from national STI diaspora networks because their members belong to or strive to improve the conditions of a specific region rather than a certain nationality. The illustrative example we show here is that of the Society for the Advancement of Science in the Arab World (SASTA), which represents all Arab researchers working abroad.
Regional educational networks focus on building capacities and knowledge around a certain region. We describe here the UArctic Science Diplomacy Thematic Network as an example.
Lastly, regional research networks are research funding programmes, research clusters, or international scientific cooperation networks or tools that certain countries launch to promote scientific collaboration with countries of geopolitical interest. We describe here the case of CYTED, an interregional cooperation programme between Spain, Portugal and Latin America.
Explore the tabs below to learn more about these regional networks!
Society for the Advancement of Science in the Arab World (SASTA)
Nature
Mono stakeholder – Research and academia (individual researchers across the world)
The network at a glance
The Society for the Advancement of Science and Technology in the Arab World (SASTA) was born out of the mutual interest of Arab Expatriate Scientists (AES) and Academics living abroad to engage more effectively with the Arab Education, Science and Technology community to create a positive impact in the Arab World.
Date
2011
Place
International network, registered as a non-profit organization with the Office of the Secretary of State of California
Funding
Membership fees and donations
Type of members
All local and expatriate Arab scientists who are graduates (holders of a PhD, MD, DO, DDS or equivalent terminal degree) are eligible for membership and voting (See guidelines, here)
Rationale and activities
SASTA's mission is to mobilise and catalyse the engagement of scientists, professionals, NGO's, academic institutions and professional societies to advance higher education, science and research in Arab countries.
To contribute to the advancement of science, technology, higher education and research in the Arab region through supporting scientific human capacity building, development of academic and research programmes and providing scientific, technical and material support to local academic, scientists and universities. SASTA will seek to achieve these objectives by:
Developing and maintaining a comprehensive database of Arab expatriate and scientists in the Arab world and develop tools that would enable the use of this database as a catalyst for capacity building through networking and collaboration between scientists in the Arab world and abroad.
Establishing partnerships with universities, NGO's, professional societies and industries in and outside the region.
Developing programmes to train local scientists in specific research areas of special importance to their local society needs and/or national priorities
Acting as an independent non-partisan scientific body on issues related to science and its advancement in the Arab region
Promote science-based programmes on sustainable economic development and establish a cooperation of sustainable science and technology between academic institutions, industry and government.
To date, SASTA has established partnerships and collaborations with different institutions such as the Arab League, the Jordan University of Science and Technology, and the World Economic Forum.
European Scientific Diasporas in North America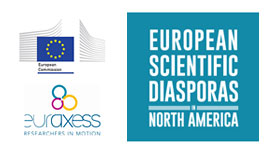 Nature
Multi stakeholder – Research and academia (European associations of researchers of different Member States across the world) and supranational organisation (European Commission programme EURAXESS Hub North America and Canada)
Leading stakeholder: The EU as a supranational organization addressing regional and global challenges and Scientists and their networks
Other Stakeholders involved: Researchers, universities, research organisations, industry, and others
The network at a glance
EURAXESS North America reaches out European Scientific Diasporas in the United States and Canada to promote the European Research Area (ERA) as a place of excellence where they come from and can function as ambassadors.
EURAXESS Worldwide is the international arm of EURAXESS and has been operating as a part of the practical/operational side of the new ERA since it links the ERA to the rest of the world
EURAXESS Worldwide in general helps support researcher mobility and career development connecting various actors and stakeholders in science, technology, and innovation (STI) and promoting European Research Area. It offers to interact on a global scale; it is a pan-European initiative and is a networking tool supporting researchers working outside of Europe who wish to connect or stay connected with Europe.
The overall aim is to support researcher mobility and career development, while enhancing scientific collaboration between Europe and the world.
It has dedicated teams in eight countries and regions: ASEAN (with a focus on Singapore, Thailand, Indonesia, Malaysia, and Vietnam), Australia and New Zealand, Latin America and the Caribbean (LAC, with a focus on Brazil, Argentina, Chile, Mexico, and Colombia), China, India, Japan, Korea, and North America (Canada and the United States).
The main objective of EURAXESS North America is to develop, run, and animate a network outside of Europe aiming at supporting researchers working outside of Europe who wish to connect or stay connected with Europe and to promote mobility.
Through its information portal EURAXESS North America provides free information on career opportunities, fellowships, and funding programmes available to researchers in the U.S. and Canada who wish to conduct research in or by collaborating with Europe.
It is a tool for creating and highlight events, and showcasing strong examples around the world.
It promotes framework programmes (Horizon 2020, Horizon Europe) from the angle of mobility, e.g. MSCA and ERC.
European researchers and scientists have been an integral part of the North American research landscape for a long time. However since 2015, European scientific diaspora networks meet annually as a vital form of support and community building.
The network integrates diasporas from nearly 20 countries, among which are ECUSA (Spanish Scientists in the USA), GAIN (German Academic International Network), ISSNAF (Italian Scientists and Scholars of North America), HBA USA (Hellenic Bioscientific Association in the USA), IASF (Ireland America Science Forum, formerly the Wild Geese Network of Irish Scientists), FR@NIH (French Fellows at the NIH), TASSA (Turkish American Scientists and Scholars Association), ASCINA (Austrian Scientists and Scholars in the USA, Canada, and Mexico), RINA (Research and Innovation Network Austria) and STARS (Swedish Trans-Atlantic Researchers and Scholars Network). Beyond groups representing a nation, we also include cross-cutting groups such as the IWS Network (Immigrant & International Women in Science Network) in Canada for immigrants of all nationalities.
Date
2013
Place
Washington, DC (covering the U.S. and Canada)
Funding
European Commission
Type of members
Individuals and Organizations
UArctic Science Diplomacy Thematic Network
Nature
Mono-stakeholder (Research and academia)
The network at a glance
The University of the Arctic (UArctic) is a cooperative network of universities, colleges, research institutes and other organizations concerned with education and research in and about the North. UArctic launched the Science Diplomacy Thematic Network in 2017 in order to train scientists as diplomats with theory, methods and skills that contribute to informed decision-making for sustainable development in the Arctic and elsewhere across generations.
Date
UArctic – 1998
UArctic Science Diplomacy Thematic Network – 2017
Place
International Network
Funding
Public / Private
Type of Members
Higher education institutions and organisations concerned with education and research in and about the North
Rationale and activities
UArctic wants to build and strengthen collective resources and collaborative infrastructure. Through cooperation in education, research and outreach they enhance human capacity in the North, promote viable communities and sustainable economies, and forge global partnerships.
The UArctic network includes nearly 190 institutions collaborating (for a full list, visit this link). The network empowers the people of the Circumpolar North by providing unique educational and research opportunities through collaboration within a powerful network of members. The Arctic Council, the Standing Committee of Arctic Parliamentarians and other Arctic leadership institutions recognize UArctic and its members as the educational, training and research engine of the North.
The UArctic Science Diplomacy Thematic Network builds on scientific cooperation. The Network was launched in 2017 and enhances interdisciplinary research (natural sciences, social sciences, indigenous knowledge and international relations) in the Arctic context, collaborative and innovative education opportunities across the UArctic Network (science diplomacy joint courses, faculty exchanges, etc.), and will convene high-level, international dialogues and conferences.
The aim is to engage the full range of stakeholders, from diplomats and experts to students, in an international, interdisciplinary and inclusive manner. Science diplomacy in the Arctic has already proven its global relevance, as highlighted by the Agreement on Enhancing International Arctic Scientific Cooperation signed by the foreign ministers of all eight Arctic states as well as from the Governments of Greenland and the Faroe Islands on 11 May 2017 at the Arctic Council Ministerial Meeting in Fairbanks, Alaska.
CYTED, Programa Iberoamericano de Ciencia y Tecnología para el Desarrollo
Nature
Multi-stakeholder.
Lead: Governmental stakeholders
Partners: Research and academia, and Industry sector
The network at a glance
CYTED's main objective is to contribute to the harmonious development of the Ibero-American region through cooperation mechanisms that seek scientific and technological results, transferable to production systems and social policies. The beneficiaries of CYTED financing instruments may be universities, R&D centres and innovative corporations in member countries.

The CYTED Programme also answers the calling to act as a bridge for interregional cooperation in Science and Technology between the European Union and Latin America.

CYTED was created in 1984 through an Interinstitutional Framework Agreement signed by 21 countries of Spanish and Portuguese language. Since 1995, the CYTED Programme has been formally included among the Cooperation Programmes of the Ibero-American Summit of Heads of State and Government.

The specific goals of the CYTED Programme are:
Encouraging the integration of the Ibero-American Scientific and Technological Community, promoting an agenda of shared priorities for the region.
Strengthening the technological development capacity of Ibero-American countries through the promotion of joint scientific research, the transfer of knowledge and techniques, and the exchange of scientists and technologists among R&D+i groups in the member countries.
Promoting the participation of business sectors from member countries interested in innovation processes, in accordance with the research and technological developments of the Ibero-American Scientific and Technological Community.
Promoting the participation of researchers from the Region in other multilateral research programmes through agreements for this purpose.
Date
1984
Place
Regional Network
Funding
Public
Type of Members
The CYTED Programme is organised according to a decentralised model, whose institutional framework is comprised of the Organismos Nacionales de Ciencia y Tecnología (ONCYT), the bodies responsible for the scientific and technological policies of the 21 participating countries. Each ONCYT is responsible for the management of the programme in their country and participates with a representative in the administration bodies of CYTED.

The General Assembly is the highest level political decision-making body of the CYTED Programme. It is integrated by the highest authorities of the ONCYT.
The General Secretariat is the management body of the CYTED Programme, and is of an international nature. It comprises the Secretary General (appointed every three years by the General Assembly), the Area Managers (appointed for a period of two years and may be elected for a further period), a Scientific coordinator and the technical staff that provides support in the secretariat at the headquarters located in Madrid (Spain).
Rationale and activities
As mentioned above, CYTED aims to foster scientific and technological projects to encourage harmonious development in Ibero-America. As such, the type of Research and Development tools available for CYTED are as follows:
Funding calls for Projects on Strategic Issues: call for participants to apply for funding for research and technological development projects within groups of CYTED countries. These are financed with both CYTED funds as well as with external contributions from the member countries through their national organisations (ONCYT). The projects must be relevant from the viewpoints of research and innovation, should have transnational character and their duration will be of up to three years.
The Thematic Networks: clusters of research and development (R&D) formed by public or private entities and corporations from the member countries of the CYTED Programme, whose scientific or technological activities are related within a common area of ​​interest and included in one of the Programme Areas. Their main objective is the exchange of knowledge between R&D groups and the strengthening of cooperation as a work method.
Read more!
You may learn more about CYTED and its science diplomacy dimension in this reference:
– Gual Soler, Marga (2014): "El Papel de las Redes Científicas Intergubernamentales en las Relaciones Regionales y la Integración de América Latina". Science & Diplomacy, Vol. 3, No. 4 (December 2014) (Link).

The material provided under this course is licensed under a Creative Commons Attribution 4.0 International License.