French foreign policy and diplomacy are strongly linked to France's role in global history, in colonial contexts, but also to a large extent through cultural diplomatic initiatives. The posting of science counsellors and attachés at embassies is part of the long historical tradition of French cultural action abroad, starting at the end of the 19th century by the creation of French cultural centers and schools and the birth of the network of Alliances françaises (Ruffini, 2020).  France's reputation in the world goes hand in hand with a fundamental consensus on the importance of the "Francophonie". After all, French is one of the official languages spoken in various political institutions worldwide and was considered the "language of diplomacy" as of the 17th century until it was increasingly replaced by English.
In this respect, French foreign policy speaks of cultural diplomacy, to which it has recently placed scientific diplomacy on an equal footing. The report of the Ministry of Europe and Foreign Affairs (MEAE) on "Une diplomatie scientifique pour la France" of 2013 deals with science diplomacy in detail. Politics can and should serve science; science is an advantage for foreign policy in order to pursue France's interests in a soft way. Science diplomacy is seen as an important tool to stimulate development, maintain France's leadership, drive innovation and mobilise the global network for French (and European) interests. In this context, the government aims to increase interaction between France's scientific community and its diplomatic network in order to:
support the status of researchers and companies in international competition,
involve the science world more closely with foreign policy objectives, and in particular,
raise researchers' awareness in development issues, by building and leveraging the Global South's scientific capabilities.
Since 2010, France has had an Ambassador delegate for science, technology, and innovation, whose mission is to promote French scientific and technological excellence and to highlight the national research strategy at the international level (Ruffini, 2020).
Furthermore, France adopted a National Strategy for Research and Innovation in 2009. The implementation of this strategy has been led by the Ministry of Higher Education, Research, and Innovation (MESR), in charge of the development and conduct of research policy. Currently, a law on multi-year research programming is being prepared.
The French Académie des Sciences is a leading actor in policy advice with relation to these matters.
France's policy vis-à-vis large-scale research infrastructures is also an essential component of the effort to enhance the country's influence abroad and a good example for science diplomacy. For over fifty years, the country invested in developing major physics and astronomy research facilities and, very recently, databases, libraries and shared scientific computing networks, like GANIL (National Large Heavy Ion Accelerator) at the national level. Other multilateral examples include the European Organisation for Nuclear Research (CERN) and European Southern Observatory (ESO) at the European level, or the International Thermonuclear Experimental Reactor (ITER) and Atacama Large Millimetre Array (ALMA) at the global level. The hosting of major research instruments in France contributes to establishing itself as a hub for international scientific elites and provides opportunities to boost academic but also diplomatic cooperation.
What the experts think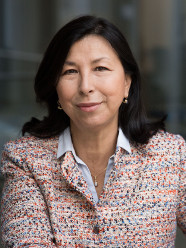 Minh-Hà Pham
Vice-President for International Relations, Université Paris Sciences et Lettres – PSL (PSL)
Could you explain briefly the science diplomacy approach in France?
Read more about France's science diplomacy in the reference below:
– Pierre-Bruno Ruffini (2020): France's Science Diplomacy, AAAS Science & Diplomacy Publications (Link)
Links to intitutions:
– Ministry for Europe and Foreign Affairs (n.d.), Scientific Diplomacy (Link)
– Ministry of Higher Education and Research (MESR) (Link)